Taking care of our physical body helps us to stay healthy, of course.  We eat right, get enough sleep, rest, healthy water, happy thoughts, lovely cardio and breathings… awesome…
don't forget about your skin.  Your skin is the largest organ of the body.  I was looking up something on the internet and came across the article.
I hope you enjoy it.  Remember with your poise and posture to help you stay with a ease and grace of your spine, neck and hips; add in the backbends to your practice to keep
your neck strong.
Youth is a breathing I have on my Feel your Light cd.  This shares the ways my mother used the sounds of ohms and eeeeehs with the quick taps of her hands under her jaw line
to keep it nice and taught.
As well, the gentle back bends stretches from standing as you touch the wall, camel  pose, using a chair or wooden bench for the back bend, gentle back bends from the yoga
mat and the full wheel backbend
posture if it is there for you.  Any of the back bends are amazing for your neck and jaw to keep the muscles strong.  
Have Fun… love t
Our daily routines have changed and self-care is more important today than ever. Maintaining healthy and beautiful skin is not only dependent on your skincare regimen, lifestyle habits and repetitive movements have a lot to do with the aging process of our skin, not to mention with overall well-being.
If you are working from home, you probably spend more hours in front of the computer than usual. If you are not, you surely check your cell phone more often than before. That is why we have prepared some posture tips for your neck and décolleté area. Follow our expert advice and you will not only prevent the appearance of premature lines and wrinkles… your entire body will experience a positive difference too.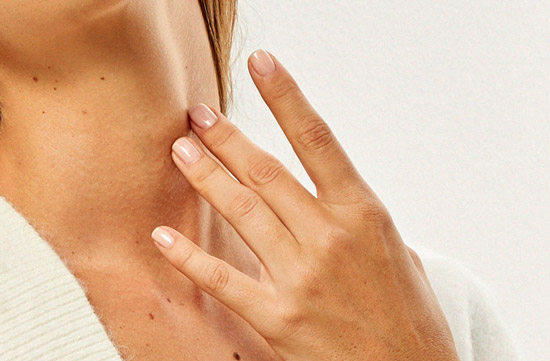 TELECOMMUTING? BE SURE TO PAY ATTENTION TO YOUR POSTURE
If you want to avoid suffering from back or neck pain, and prevent the appearance of wrinkles, it is fundamental to maintain good posture, especially during the hours you are seated. It could seem difficult if you are working from home, but here are some essential tips to help:
1. Adjust your chair to place your feet flat on the floor or on an under-desk footrest.
2. Support your back on the backrest to keep you straight.
3. Do not cross your legs, as it unbalances our natural body posture.
4. Every 20-40 minutes, stop for a few seconds to make sure you maintain a good posture.
HOLD YOUR MOBILE LIKE A PRO Did you know that we bow our heads an average of 150 times a day to look at our phones? So, when using your phone, make sure you hold it just below eye level. You will avoid flexing your neck and limit the increasing appearance of a double chin and horizontal expression lines.
USE HEADPHONES TO TALK ON THE PHONE A simple practice of using headphones to talk on the phone avoids bending the neck in bad position which can prevent expression lines and help keep the skin firm. Who thought headphones could be your best beauty ally?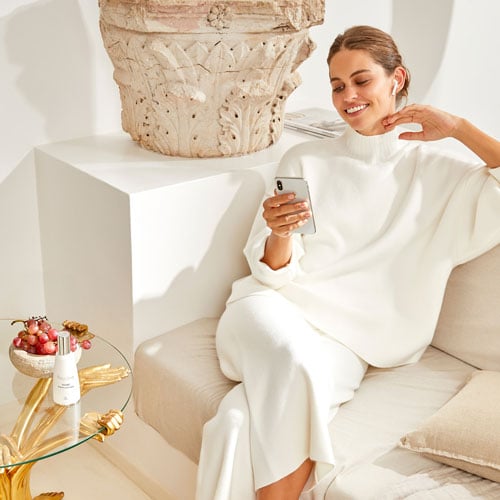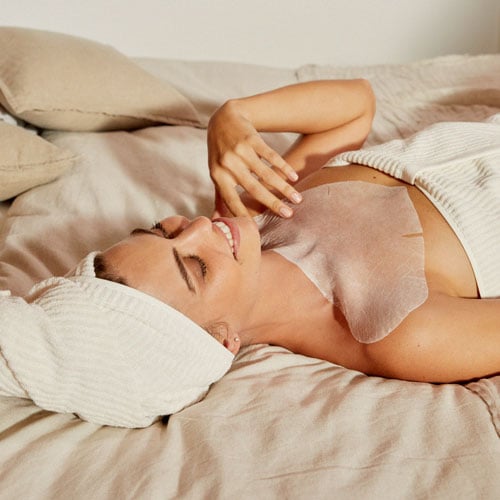 CHOOSE YOUR SLEEPING POSITION WISELY One of the most common beauty tips is to get enough sleep. But, did you know that your sleeping position can actively advance the formation of wrinkles, as well as cause back problems? For instance, sleeping face down or on the side can lead to vertical lines on the décolleté. Even placing a pillow too high can cause the appearance of the double chin because it forces bad posture. In addition, reading in bed can cause horizontal wrinkles. Want to know to prevent these effects? Here are some easy best practices to follow:
1. Be aware of your sleeping posture and try to sleep face up.
2. To sleep face up, you can place cushions on both sides of your body.
3. When you read in bed, make a good backrest based on your headboard and several pillows.